Brokers & Professionals
Over the last 25 years, Mr. Anderson has provided escrow services for more than 250 closings per year, giving him the experience to easily assist you and your clients in all types of transactions. Anderson Law & Escrow, PLLC, actively works with over 40 brokerage firms all across the State of Washington. Mr. Anderson wants the closing transaction to close smoothly for all parties and will travel for a closing transaction to the most convenient location for all involved.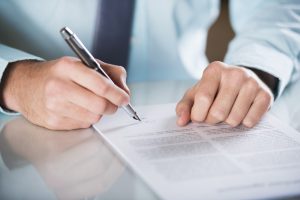 At Anderson Law & Escrow, PLLC, Mr. Anderson acts as the Escrow Agent for Commercial Transactions, including Business Opportunity and Commercial Property Transactions, in conjunction with:
Accountants
Attorneys
Bankers
Brokers
Title Companies
As the Escrow Agent, Mr. Anderson provides the following services:
Preparation of Purchase & Sale Agreements
Obtaining Tax Status Letters from Department of Revenue, Employment Security Department and Department of Labor & Industries
Preparation of Closing Documents:

Bill of Sale
Assignment of Accounts Receivable
Promissory Note
Security Agreement
UCC Financing Statements
UCC Termination
Non-Compete Agreement
Use Tax Return
Escrow Instructions
Consent to Sell
Consent to Purchase
Certificate of Seller
Notice of Sale
Deed of Trust
Statutory Warranty Deed
Limited Power of Attorney
Closing Statements

Escrow Trust Account – Anderson Law & Escrow, PLLC maintains an IOLTA Trust Account with U.S. Bank for:

The deposit of earnest money
The deposit of SBA and Commercial Loan Proceeds, as well as other sources of funding
The pay-off of underlying loans, Tax Liens, Tax Warrants, and other necessary pay-offs

Holdback and payment for County and City Accounts, including personal property, advanced tax, and utilities (if requested)
Perform UCC Searches (additional cost to fee)
In order to be considered more environmentally friendly, Mr. Anderson delivers all of the final closing documents to the various parties invloved in the closing transaction with a Documents Folder containing a CD, which is indexed and labeled for easy viewing and storage.
For our fee schedule or an estimated escrow fee, please call our office for a quote.
You can find out new client forms on the left hand side of the screen, which include:
New Client Checklist
New Client Form
Requested Information for Escrow